When you come to Alfa Romeo of Winter Haven looking for a high-end vehicle that offers a smooth ride, looks luxurious, and is available at an affordable price, we recommend you take home the new 2017 Alfa Romeo 4C Coupe. Be the one everyone is talking about when you roll down the street in your luxurious and stylish Alfa Romeo 4C. This outstanding new Alfa Romeo is just what you might have been looking for.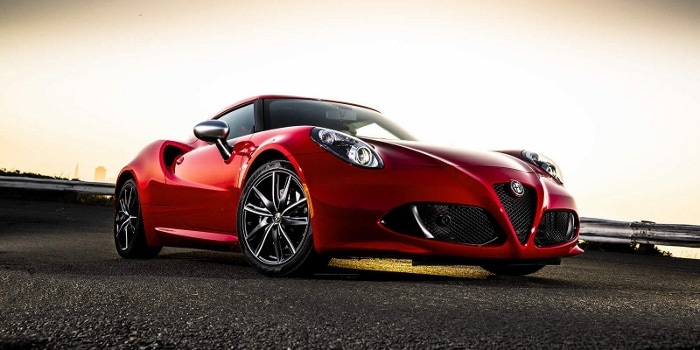 2017 Alfa Romeo 4C Details
The new Alfa Romeo Coupe is a two-seat sports car that resembles an old-school supercar, like the Lamborghinis and Ferraris of yesteryear. The all-new 2017 Alfa Romeo 4C Coupe includes a 1.4-liter 4 Cyl engine that produces 237 horsepower, a six-speed automatic transmission with auto shift, and stylish black cloth seats.
Its stylish look is what sets this vehicle above the rest. The 2017 model is a carryover from 2016 and is a featherweight sports car well-suited to spirited, high-RPM driving. Its strong features are the handling and steering so if you are up for the fast, fun ride this Alfa Romeo 4C is your car, which can be found at our Alfa Romeo dealership.
2017 Alfa Romeo 4C Coupe Safety and Special Features
The 2017 Alfa Romeo 4C Coupe at Alfa Romeo of Winter Haven provides safety while on the fast track. Some of the safety features include: passenger airbag on/off switch, 4-Wheel ABS, ABS, 4-wheel disc brakes, 4-wheel drum brakes, front disc/rear drum brakes, brake assist, electronic stability control, auto-on headlights, daytime running lights, adjustable pedals, rollover protection system, traction control, emergency trunk release, blind spot monitor and much more.
The Alfa Romeo 4C prioritizes weight savings and as a result, the interior is composed of lightweight materials. Because of its light weight, this model makes exhilarating use of its 237-horsepower engine, sprinting from zero to 60 mph in 4.1 seconds. Check out more of its features at our Alfa Romeo dealership new Lakeland.
Buying a 2017 Alfa Romeo 4C Coupe
Come see our team of professionals at Alfa Romeo of Winter Haven today, conveniently located at 190 Avenue K SW Our sales staff will be happy to learn about your automotive preferences, show you around, and set you up to take out you new Alfa Romeo 4C for a test drive. We hope to see you at our Alfa Romeo dealership soon!