Thank you for visiting us at Alfa Romeo of Winter Haven! Some cars go down in history for their technological or stylistic innovations. Others deserve to be remembered sentimentally for the role they've played in the daily life of an entire generation or country. But few succeed in combining the two - technology and sentiment - and leave an eternal mark. That's where Alfa Romeo cars are today and why you need to view these new exotic autos in person at our dealership serving Auburndale, FL.
    We appreciate that you've considered us for your new Alfa Romeo purchase near Lakeland, FL. Browse our inventory online to see what we currently have in stock, like the 2018 Alfa Romeo Stelvio SUV. You can also learn more about some new exciting and exotic Alfa Romeo vehicles heading our way like the Alfa Romeo Giulia.
    Our team is dedicated to providing you with exceptional customer service that parallels the premium quality of our new and pre-owned cars in Winter Haven. Our experienced and dedicated staff will guide you through every aspect of your automobile shopping experience. 
    Our Winter Haven, FL luxury Alfa Romeo service department and collision center is home to factory certified technicians, so you can trust that your car is in the best hands when you bring it to our maintenance facility. Whether you're getting a simple oil change or more complex work, we strongly encourage you to take advantage of our experienced mechanics and competitive prices on service and car parts in Florida that we offer.
    From sales to service, we are committed to provide you with a premium experience in all areas. Don't hesitate to send us your questions or feedback online or call us directly at (844) 726-9476. We look forward to serving you at our Winter Haven, FL Alfa Romeo dealership! Stop by and see us today to view what you never knew you were missing.
Our Dealership Mission Statement:

"FOR A LIFE-LONG COMMITMENT TO OUR CUSTOMER FRIENDS,
FELLOW EMPLOYEES, AND COMMUNITY. WE ARE DEDICATED TO PROVIDE
HONEST WORK WITH SUPERIOR PRODUCTS AND SERVICES THAT
CONTINUOUSLY EXCEED CUSTOMER EXPECTATIONS."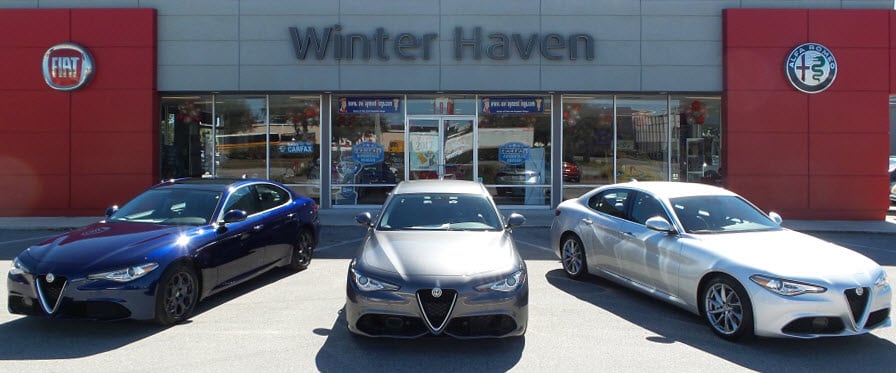 THE LOW PAYMENT KINGS TO SELL ALFA ROMEO AT FIAT OF WINTER HAVEN
    WINTER HAVEN, FL, June 17, 2014 - FIAT of Winter Haven will begin selling the coveted Alfa Romeo brand this year after signing a letter of intent earlier this month.
    A limited amount of dealers were chosen to sell the brand. FIAT of Winter Haven is one of 9 dealers in Florida chosen, and one of the first 82 chosen throughout the country.

    The North American debut of the Alfa Romeo 4C was celebrated at the New York International Auto Show on April 16, 2014. As expected, the 4C embodies the best of Alfa Romeo engineering and Maserati manufacturing.
    Anyone interested in purchasing one of the first Alfa Romeos in America should contact Alex Mahalak at 863.837.3136
***The FIVE-Star teams at Dodge of Winter Haven, Posner Park Chrysler, Lake Wales Chrysler, Alfa Romeo and FIAT of Winter Haven, Monroe Superstore and Buckeye Superstore invite you to learn more about our 20 all new, world-class models "imported from Detroit," including Motor Trend's Truck of the Year for the second time, the 2014 Ram 1500, at www.LowPaymentKings.com***